11 Times Leo Proved Sex Appeal Can't Be Taught
Love me tender, Romeo.
Ahh, Leo. Everyone's favourite sex bomb of the 90s and early noughties. Ever since I first saw him win that lucky (or unlucky) hand at poker in Titanic, I've been truly, madly, deeply in love.
At the age of 11 or 12, he was the beginning of my adolescent sexual awakening, and my all encompassing celebrity crush to this very day. He's sublime. He's sensational. His sex appeal surpasses all others. And if you share my infatuation, you'll know why Leo is the king of the kind of sex appeal that just can't be taught. Cue popcorn, lights out, and Kate Winslet joyously exclaiming, "I'm flying, Jack!"
Will somebody please give that man an Oscar?!
1. His classic smolder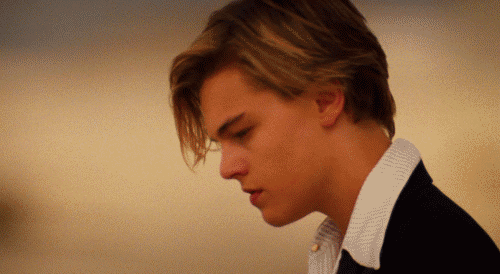 What better way to introduce history's most iconic heartthrob in Romeo + Juliet than by exposing us all to his classic smoldering stare? Activate swoon mode…
2. His ability to make arrogant look sexy
Regardless of the fact he played an unscrupulous tycoon who swindled people out of millions of dollars, Leo somehow managed to make him as smooth and sexy as hell.
3. His puppy dog eyes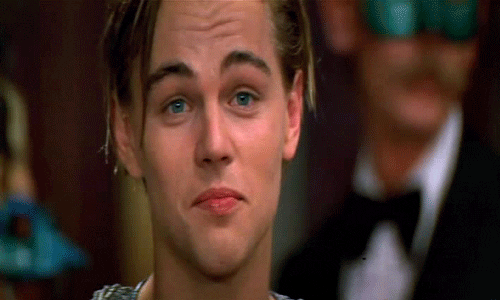 Dear God, this is how every girl walking down the stairs dressed to the nines to meet a potential suitor wants to be looked at. I'll take two.
4. His vulnerability
Not many men seem to know how to pretty-cry. But Leo does. Oh, Leo certainly does…
5. His lovability
Don't you just want to give him a cuddle, and kiss, and some summer lovin'? Don't cry, Leo! Or do, I don't really mind.
6. His intensity
Such serious. Such smolder. Such sexy. Such, such…*falls on face*
7. His smile
Couldn't you just look at that cheeky half-smile forever…? *sigh*
8. His bod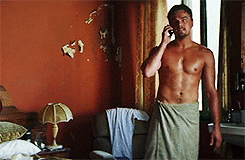 I…just…what the hell?! I can not even deal. Just can not deal. Agh!
9. His flawless Romeo
"Romeo, Romeo, where for art thou Romeo?" Seriously, get over here and let us begin the horizontal tango.
10. His macho side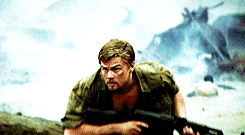 The bare chest, the rugged facial hair, and the explosions in the background never fail to make a girl shiver. Leo, make a woman outta me!
11. His grace under pressure
You didn't win the Oscar Leo, but we were all screaming internally along with you. Your moment in time is coming… In the meantime, continue doing what you do best, and being yo' hot self.
Images via giphy.com and miami.com
Daisy Cousens
Daisy is a writer, actress, and outspoken feminist. She has a peculiar fixation with tennis and often shouts, "Vamos Rafa!" at inappropriate moments. Harry Potter is her spirit animal. Follow Daisy on Twitter and Facebook.