PREVIOUS STORY
12 Ways To Win The Holidays With Your In-Laws
NEXT STORY
Winner, winner, turkey dinner.
They say when you marry your Schmoopie Cakes, you also marry your Schmoopie-Cakes' in-laws. No quitsies, erasies or take-backsies.
Unfortunately, that union isn't always a match made in heaven. More than 60 percent of married women say their mother-in-laws consistently stress them out, according to a study by psychologist Terri Apter, who also wrote the relationship book "What Do You Want From Me?"
The tie between spouses and in-laws can be a bond that requires strength, patience and, alcohol, so much alcohol.
In my case, it's not differences with my significant other's parents that ruffle my feathers, but his sister, who hosts all the family gatherings at her home and, therefore, rules the roost. Our mother-clucking spar-offs generally take place over the dining room table.
When you're lactose intolerant like I am, eating even small amounts of dairy foods like milk, butter, ice-cream or cheese can cause tremendously unpleasant stomach upset, gas and distress. Dairy pills with the enzyme lactase help to a degree but only about 50 percent of the time.
Sister Mary Moo Cow, let's call her, knows I have this condition and has quizzed me about it thoroughly. Yet every holiday I visit her home, she and her spouse-in-crime order delivery pizza dripping in cheese for the big family meal.
If I suggest buying my own non-dairy dish or try to excuse myself, I'm told essentially, "Sit down. This is what we're eating," or presented with an oddly booby-trapped alternative. Example: the home-made quinoa chicken salad I was promised looked and sounded delicious until I pulled an elbow-long human hair out of my mouth. It wasn't mine. *Gag.*
Well, the supper sabotage stops here. This year, I'm determined to win the holidays with my in-laws, whether that means bringing my own roasted turkey or building a scream box (see No. 9). Here are 12 sassy, saintly and not-so-serious ways to take the reins back at your family get-togethers.
1. For the Nosy Nancy
Got a mother-in-law (MIL) who likes to snoop? Stash notes that say, "Hi, looking for something?" Or "Yes, I cleaned here" on mantelpieces, under candlesticks or inside medicine cabinets, closets and drawers.
2. Kill them with kindness
Make a small giftbasket for your mother-in-law with her favorite teas, hand creams, sudoku puzzles, nail polishes etc. and leave it in her room. Do the same for your father-in-law with a small book of political jokes or sports statistics, snacks, crossword puzzles, travel-size deodorant or toothpaste and toothbrush.
3. Schedule time with the grandkids
Reserve tickets ahead at a kids museum, family fun park, library holiday book reading or movie so Pop-Pop and Mee-Maw simply have to spend the afternoon out with the grandkids.
Be contagious. No, really.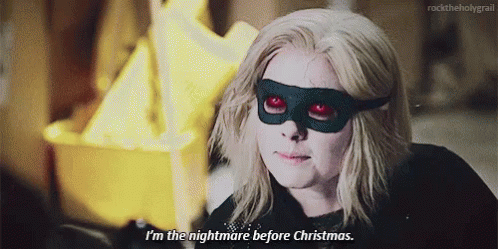 For the handsy father-in-law who likes to sneak up behind you or lingers a little too long during the welcome hugs and kisses, try this reddit user's advice: "Say you suddenly have an allergy to detergents, you're not sure which one. I personally have sensitive skin and I break out in hives from someone washing their hands with the wrong soap. Plenty of people do. Make sure everyone knows — often and loudly."
5. Glitter bomb them
Buy some colorful, cheap felt fabrics, glue and glitter and put the grandparents in charge of an arts and crafts afternoon with the youngsters. Outside the house or in the garage is best, so they don't make a mess inside. Just make sure it's far from wherever you are.
6. Suggest flashback fun with photo albums
Place photo albums from your significant other's childhood out where the in-laws can spot them, so they can thrill the grandkids with stories about when mommy or daddy was young.
7. Take a cue from Stranger Things diva, Erica
For the hee-larious mother in law who likes to joke at every family gathering, "Oh, are you guys still married?'"
8. Remember: It's because you're too pretty.
Why don't the in-laws like you? Simple: They're worried you're too hawt for their dear son or daughter. Some of the largest conflicts in mate preferences between adult children and their parents occur because of the significant other's good looks, height or physical fitness, according to a 2008 study in the journal of Evolutionary Psychology. Parents surveyed said instead that they value "family background, sound financial prospects, or similar religious or ethnic backgrounds" over plain old gorgeousness.
9. Build a scream box
Can't contain your frustration or resentment any longer? Sneak away to a secret place and scream all you like into a box. An empty shed or car works well too. Just make sure the windows are sealed.
10. Confuse your MIL with compliments
If she starts to criticize you or your home-making, reply with a compliment and a question. "Your hair is so stylish. Who does it?" Or "I just love your fun sweaters. Where do you get them?"
11. Bring your own entree
Sans dairy. Or gluten. Or meat. Or anything that causes you physical distress.
12. Slay them with Southern Charm
When something nasty is directed at you, just do like country singer Miranda Lambert does: "I just smile and say, 'God bless.'"
Images via giphy.com, tenor.com, eonline.com, netflix.com.
Comment: How do you get along with your in-laws?
You Said
Comments
Related stories
More from this author