13 Ideas For Celebrating Galentine's Day With Your Lady Friends
Celebrate your true soulmates in life: your girlfriends.
You're probably aware that over the past few years, a new holiday has been born: Galentine's Day. But what, exactly, is Galentine's Day, and where did it come from?
A day to celebrate female friendship, Galentine's Day got its start on a 2010 episode of the sitcom Parks and Recreation, when the relentlessly sunny, waffle-loving Leslie Knope, played by Amy Poehler, explained that on the day before Valentine's Day, she has a tradition of getting together with her girlfriends for brunch.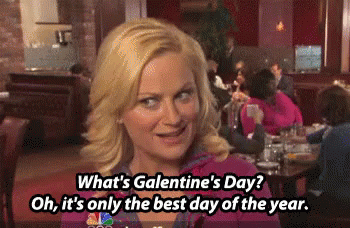 "Every February 13, my lady friends and I leave our husbands and our boyfriends at home, and we just come and kick it, breakfast-style. Ladies celebrating ladies. It's like Lilith Fair, minus the angst. Plus frittatas," she says on the episode, titled, naturally, Galentine's Day.
Convinced? Here are a few ideas to get you started…
1. Have a spa date
What's better than a massage, a mud mask, baking in a sauna, and sitting around in a whirlpool with your girls? Even better if you can find one that lets you BYOB, or has an old Russian woman who will hit you with branches while you gossip.
2. Get your craft on
Cross-stitch, knitting, crochet, beading, collage, macramé – whatever you're all into. Gather a bunch of supplies, teach each other your best crafty tricks, and spend a few hours making gifts for each other, or for yourselves.
3. Karaoke your heart out
Get a private karaoke room, belt out all your fave power ballads, and dance the night away like the rock stars you are.
4. Bake up some sweet treats
Stage your own Great British Bake Off and make your own Galentine's treats – to eat immediately and enjoy with cocktails, naturally.
5. Have a bonfire
But not just any bonfire – this one requires bringing old photos, letters, ticket stubs, and other mementos from horrible exes, and turning them into ashes. Don't just let the past go – let it burn.
6. Watch the best tear-jerkers of all time
The Notebook, anyone? Cue up your faves, pop some popcorn, and have plenty of tissue boxes handy.
7. Give each other mani-pedis
Channel your inner eight year-old at her first slumber party and go to town with DIY manis and pedis (here are some great Valentine's nail art ideas) – or book an appointment at the nail salon and go together to get them done by a professional. The choice is yours!
8. Stage a poetry reading
The stage, of course, is your living room. Write angry anti-love poems to exes, drippy tributes to your crush, highbrow haiku or dirty limericks. Read them aloud and award each other prizes for sappiest, naughtiest, most heartfelt, etc.
9. Hit the road
Make Galentine's Day a weekend-long celebration and take a road trip with your besties! Turn up the tunes and head out for a hike, a day by the beach, or an afternoon on the slopes.
10. Go dancing
Go all out with your sparkliest, tightest, shortest dresses and your highest heels. Who needs a man to have an amazing night out? In fact, it's much better without them!
11. Host a clothing swap
You know that dress you used to love, but are never in the mood to wear anymore? Or that skirt that doesn't quite fit, but is just so cute? Everyone brings their still-good but never-worn clothes over, plays dress-up, and goes home with something new.
12. Indulge your inner nerd
Do you love board games? Are you a genius at jigsaw puzzles? Do you have a Magic: The Gathering deck stashed in the back of your closet? Don't let there be any shame in your game – stop hiding and invite your fellow nerds out to play.
13. Have your fortunes read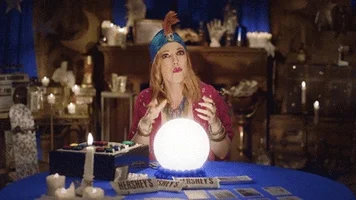 Curious about what you'll be doing next year on Galentine's Day? Call up one of those hole-in-the-wall palm reading places you've always been curious about, and make an appointment for you and all your ladies to find out what the future has in store.
GIFs via tumblr, amazon, giphy, youtube, weheartit, trutv
Comment: Will you celebrate Galentine's Day with your friends this year?