13 Work Shirts That Won't Make You Yawn
Time to rethink your office wardrobe.
Being a writer, I am lucky to have a lot of freedom when it comes to my work wardrobe. With no dress code enforced in my office, I can pretty much wear whatever I want.
If you're in a less creative job though, the majority of your business attire probably consists of suit jackets and button-up shirts, aka, is boring.
The easiest way to have fun with your work wardrobe while still looking professional is to think outside the box when buying work shirts. Details like ruffles, bows, puffed sleeves, and asymmetrical cuts will instantly lift your style game and make getting dressed for work something to look forward to. Take note from these 14 game changers…
1. A.P.C.
It's all in the details with this classic white shirt. The subtle ruffles on the neckline and slightly puffed sleeves take this shirt from boring to absolutely gorgeous. Wear with pants for a casual look or pair with a skirt for a more feminine style.
2. Comme Des Garcons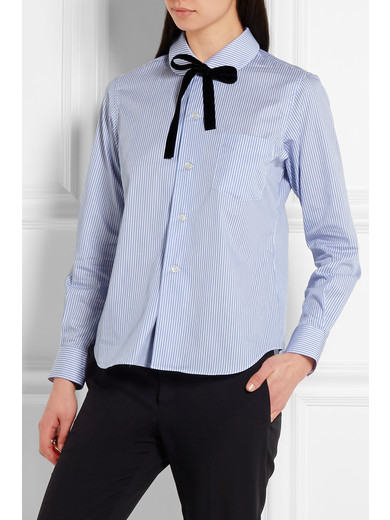 The Peter Pan collar and the black ribbon put a French twist on this blue striped shirt. Note: Leave ribbon undone for a more effortless look.
3. River Island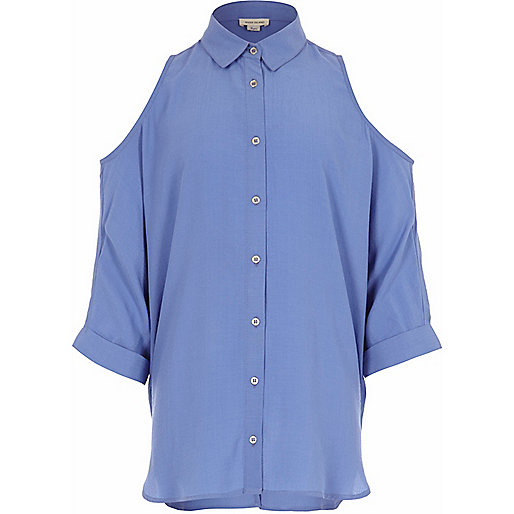 Bare shoulders are all the rage this year. To pull this off at work, keep the shirt all buttoned up to balance out the bare skin.
4. H&M
Bring some sunshine to work with this gorgeous yellow silk blouse. The wraparound cut is a refreshing alternative to buttons while also oozing elegance and style.
5. Waven
You might think denim is a no-go at the office, however, if it's this dark and delicate, it would be a shame not to wear it to work. Pair with fine jewellery and heels for instant glamification.
6. Steffen Schraut
The classic white shirt will never go out of style. Keep it interesting with this slim fit silhouette and slightly longer cut. You cannot go wrong with it as it works with literally everything.
7. Topshop
It doesn't always have to be a two-piece outfit at the office. Opt for shirt dresses with interesting details like this knotted waist and play around with accessories.
8. P.a.r.o.s.h.
If your office is cranking the air conditioning, this two-in-one sweater shirt with bow detail will keep you warm and fashionable.
9. MSGM
The loose silhouette of this shirt is a nice contrast to the tied waist giving you an hourglass shape. Play around with different ways of tieing and knotting to create different looks.
10. HUGO
Who says work shirts have to be black or white? Choose a bold colour like this coral silk blouse, pop on some purple lipstick and wear with confidence.
10. Lucy In The Sky
If bare shoulders are too much for your office job, opt for a bit of transparency and interesting black and white prints.
11. J.W. Anderson
Polka dots don't have to be stuffy. Case in point: this black and white shirt with colour-blocked cuffs. Roll up the sleeves for a laid-back, casual look.
12. Victoria by Victoria Beckham
Does Victoria Beckham ever look boring? No, she doesn't, which is why you can trust her with this interesting take on the peplum top. Business on top, party at the bottom. Keep the rest of your outfit simple and let the shirt shine.
13. Tory Burch
The easiest way to make sure your work uniform doesn't make you yawn? A fun print, of course! Tory Burch's desert flowers and meerkats are hard to beat and are sure to make your colleagues smile.
Nadine Dilong
Nadine is a beauty writer who's always on the hunt for the perfect nude lipstick and the best Instagram filter. She has a weakness for handbags and never says no to a cup of strong coffee. Follow her on Twitter and Facebook.