16 Insanely Cool Gadgets You Never Knew You Needed
Our lives are about to change forever.
There's no denying the smartphone has changed the way we humans operate. Gone are the days of address books, photo albums and wall calendars – everything we could ever need can now be found on our four-inch screens… or so we thought.
After finding myself in a bizarre part of the internet, I stumbled upon pizza scissors. Intrigued, I bought a pair and – this may sound a little melodramatic – it's safe to say my life has never been the same. Just like we all underestimated the power of the smartphone, I saw the pizza scissors as a gimmick; it was only until I gave them a red-hot go that I grasped their true power.
So how many other life-changing gadgets are there hiding out there waiting to transform our lives? Here are 16 of our faves. Give these bad boys a try and prepare to have your life turned upside down…
What is it: This awesome kitchen tool is essentially a pair of scissors with a server attached to the base.
How it works: Simply slide the server under your steaming hot pizza, snip twice for your ideal-sized slice, then pull away in one quick motion for a perfect piece.
How it'll change your life: Never again will you suffer from burning fingertips, greasy hands or have to deal with lost toppings or stringy cheese when feasting on deliciously cooked pizza.
2. GoGirl
What it is: This silicone device allows women to go to the bathroom while standing up.
How it works: Simply hold the product against your body to form a seal, then aim and wee. Since it's made of silicone, it fits to all shapes and sizes.
How it'll change your life: You'll never have to squat in disgusting public restrooms or wait in excruciatingly long lines at a baseball match again. With a GoGirl in your bag, the possibilities are endless.
What it is: As the name suggests, this mug provides an awesome little home for your biscuit.
How it works: Not too much to explain, it's just a pocket for your bickie.
How it'll change your life: When you're all rugged up in front of the fire, the last thing you want to do is leave the warmth of your blanket to collect more cookies. With one of these in your hand, you won't need to.
What it is: A three-digit lock that fits over the lid of any Ben & Jerry's tub.
How it works: Rather than rely on a sticker to clarify which tub of Ben & Jerry's is yours, this device ensures that, unless they know the code, your housemates can't break in.
How it'll change your life: Remember that one time (read: every day) you came home from work super depressed and rushed to the freezer only to find your horrible housemate had once again chowed down on your ice-cream? Well, with this, those days will be a thing of the past.
What it is: These are the first wireless earplugs that are app-controlled and block out noise up to 70 decibels.
How it works: The earplugs not only eliminate unwanted noise, the app also lets you set an alarm, choose from a variety of soothing sounds to help you fall asleep, and control which alerts, notifications and calls you'd like to wake up to.
How it'll change your life: Never board a red eye flight again fretting about children's screams keeping you awake all night.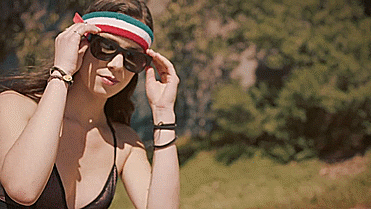 What are they: SlapSee Sunnies are just like any other glasses but with an ingenious twist: they can be folded in two and then wrapped (or slapped) around your wrist, bike handlebar, bag strap, or whatever you like.
How they work: The sunglasses have silicone-coated spring arms that allow them to wind around objects, and have a unique hinged bridge so they can fold in two. Just slap them and they'll collapse themselves.
How they'll change your life: Okay, we'll be honest, these bad boys won't change your life, but they will be an interesting talking point and are ideal for women on the go.
7. Yolkfish
What it is: A nifty tool that removes yolk from egg whites.
How it works: To separate your eggs, push either side of the silicone fish in with your fingers. Place it gently over the yolk, then release. As the fish sucks in air it should take the yellow centre with it.
How it'll change your life: Baking extraordinaires rejoice! Those countless afternoons you spent painstakingly separating yolks with your hands will never happen again.
8. ButterUp
What it is: A serrated knife on one side and a built-in grater on the other.
How it works: Running the grated edge of the knife along hard or soft butter will create easy-to-spread ribbons.
How it'll change your life: Say goodbye to torn bread and hello to melt-in-your-mouth soft butter.
9. Petnet
What it is: An automatic feeder for cats and dogs.
How it works: The smart machine measures exact portions and can be organised through an app, so you can monitor your four-legged friend's health, weight and level of activity.
How it'll change your life: Remember all those times you planned to head out straight after work and didn't have time to feed the cat? That'll never happen again, since you can now send messages home to your Petnet to do it for you.
10. Cumulus Parasol
What it is: A solar-paneled parasol that inflates itself when the sun shines.
How it works: Solar panels, which power internal fans, are positioned at the top of the parasol, and when the sun comes out the device is fully inflated within 20 seconds. The distinctive shape is aerodynamic and the nylon material is durable, lightweight and strong.
How it'll change your life: The days of heaving horribly heavy umbrellas around on your back porch are over. Let the Cumulus Parasol do the work for you while you concentrate on sipping those delicious cocktails.
11. Mr Sponge
What it is: A fancy and adorable sponge holder.
How it works: Simply squeeze the sponge into the clip to give your gentleman a fancy bow-tie (and air your sponge out at the same time).
How it'll change your life: This little contraption won't save you time or money, but your sponges won't sit in smelly water and it'll make your kitchen sink look cute as hell.
12. Pebble Ministick
What it is: The Pebble Ministick is a portable power source that'll charge your phone back up to 100 per cent as quick as any normal charger.
How it works: The device will charge your phone on the go without the need for an additional power supply. Simply plug the device into your phone to watch it rise from the dead.
How will change your life: How wouldn't this gadget change your life? In an age when the mobile phone holds more importance than our firstborn child, there's almost no point in living when you see your battery life fall below 10 per cent. Convenient, portable and a true lifesaver, the Ministick is an absolute necessity.
13. Booty Pop
What it is: Simply put, the Booty Pop is underwear with padding in the back to improve your behind region's shape and position.
How it works: These sneaky intimates have perfectly rounded silicone pads in the lining that cup an unimpressive backside to turn it into a curvaceous booty.
How it'll change your life: If padded bras have changed your life, just picture what the Booty Pop could do. Better yet, you won't need to sweat it out with thousands of squats at the gym to achieve the derrière of your dreams.
14. 3Doodler 2.0
What it is: As the name suggests, this pen brings your doodles to life.
How it works: Similar to a hot-glue gun, the 3Doodler melts plastic into a thin, flexible strand that quickly hardens, enabling your scribbles to leap off the page.
How it'll change your life: While you get creative in a whole new dimension, you'll also be doing your head some good. Focusing on a solo activity like doodling is a wonderful way to de-stress and achieve a deeper sense of mindfulness.
15. Bike Balls
What it is: A glowing, silicone ball sack that attaches easily to your bike seat and emits a red glow.
How it works: Let the traffic know your whereabouts by squeezing the balls to turn them on. The simple design allows the sack to hang from any bike seat or frame.
How it'll change your life: Own the road (or footpath) and show those drivers exactly what you're made of – dazzling, radiant balls.
16. The MasterPan
What it is: One pan with five separate sections.
How it works: This bad boy operates as any other pan would, but allows you to cook five elements of your fave meal at the same time.
How it'll change your life: No more to-ing and fro-ing between pots and pans and, thank the lord, only one pan to wash up at the end of breakfast, so you can spend your Sunday morning doing more productive things, like crawling back into bed.
Images and gifs via businesswire.com, firebox.com, go-girl.com, huedesigner.com, hush.technology, peleg-design.com, studiotoer.com, thisiswhyimbroke.com.
Comment: Have you got a seriously cool invention idea? Tell us about it.
Isabelle Gillespie
Isabelle is a writer who has a hundred-and-one side-splittingly funny stories about growing up at an all-girls boarding school, with a chocolate habit that requires constant monitoring. Follow Isabelle on Twitter.