PREVIOUS STORY
17 Thoughts Everyone Has While Getting A Brazilian
NEXT STORY
Every. Single. Time.
No matter how often I get a brazilian wax, I always feel a little nervous. I know the routine: check in with the receptionist, get a glass of water, make a quick stop at the ladies' room, then wait to be called to the back.
It feels pretty much the same as when I visit my doctor – especially when my beloved waxer, Angela, smiles at me and says "everything off below the waist" and closes the door behind her, leaving me to strip down and hop on the table, which is covered in the exact same crinkly paper that covers the bed in my gyno's office.
It's something I feel I need to go through because, well, I like having a clean area – but damn is it painful. To empathize with every other person – man or woman – going through those 10 minutes of torture every few weeks, I thought it'd be funny to tell you exactly what goes through my mind while I'm getting a brazilian. Don't tell me you can't relate…
1. Is it okay if I leave my shoes on?
2. I wish I could just get my pap smear over and done with while I'm here.
3. I wonder how many vaginas this woman has seen up close.
4. This time I am not going to flinch.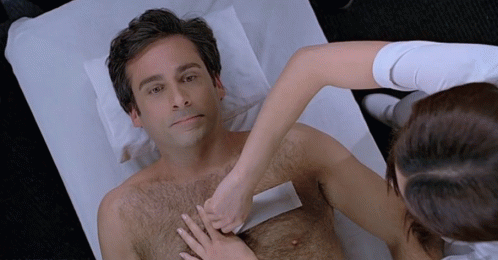 5. I am breathing!
6. Am I the only client of hers who screams through the pain?
7. Why am I paying someone to hurt me this much?
8. I wonder if my boyfriend has ever felt this kind of pain.
9. My knees don't go any closer to my ears than this.
10. That's so cute, how she calls it my 'tail'.
11. But wait – since when do I have hair there?
12. Wow, that part actually didn't hurt as much as I thought it would.
13. That's it? She's finished? Thank you, Jesus!
14. I'm so brave.
15. My boyfriend is going to love this.
16. Am I a terrible feminist?
17. I don't care – this feels amazing.
And then I march confidently out of the salon, feeling triumphant and exhilarated – until I go to the bathroom and discover my underwear is stuck to me with leftover wax. Note to self: Next time, go commando.
GIFs via giphy.com, riffsy.com, tumblr.com and wifflegif.com.
Comment: What are your thoughts on brazilians?
You Said
Comments
Related stories
More from this author