PREVIOUS STORY
6 Ways To Get Rid Of A Pimple Immediately (Like, Right Now)
NEXT STORY
Stop covering that pretty face. We have the solution to nix that zit in a jiffy. 
A pimple can pop up in reliable fashion (every month before your period, for example) or just when it's most inconvenient (like the morning of a highly anticipated first date).
After that, the situation spirals out of control as you desperately try every trick imaginable, first to get rid of a pimple immediately, and then to conceal the damage you have wrought. In the end, your self-inflicted wound may look far worse than the zit it started out as. But hey, at least it's not a pimple, right? There's got to be a better way. Let's start with prevention.
"Some of the best ways to prevent acne are the most basic," explains Emily Bergquist, a licensed esthetician in Brooklyn, New York.
"Drinking plenty of water, removing all make up, and being careful to read product ingredients to make sure you avoid things that irritate your skin."
But be forewarned: sometimes, in our quest to avoid getting blemishes, we become part of the problem.
"Some common mistakes that people make when it comes to treating pimples and acne prone skin in general is over cleaning and avoiding all oil and moisture," says Bergquist.
"When you dry out skin, even skin that is oily, and don't replenish it with moisture, your skin will try and overcompensate and produce even more oil."
Bergquist recommends using jojoba oil because it's easily absorbed and doesn't over-lubricate the skin. (Other natural oils that can be beneficial to the skin include hemp seed oil.)
But let's say prevention isn't an option because you already have a pimple, and you want to get rid of it ASAP? Here are six things you can try (just keep two important zit-busting tips in mind).
First, choose your approach carefully and don't necessarily try everything all at once. Although some remedies can be used in conjunction with each other, piling them all on at once can make that acne angrier than ever. Second, when trying out something new on your skin, do a test on your forearm first to make sure you're not allergic). Now, pick your poison (just don't pick your zit!)…
1. Popping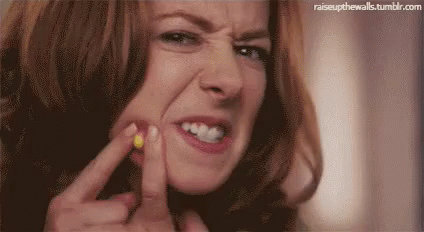 Pimple-popping is one of life's greatest contradictions. We're warned against doing it (and in fact it can lead to serious infections), and yet it's a process so satisfying, there are YouTube videos devoted to it and fanatics who watch them.
"Everyone knows you should try and avoid popping pimples, but if you have to then make sure to not overdo it," warns Bergquist.
"Squeezing a pimple that is not ready will cause bruising and make it harder to conceal."
If you simply must pop that zit, Bergquist suggests icing it afterwards.
"It will help reduce redness and swelling."
2. Zapping
"A quick way to get rid a large deep down pimple is sleeping in a benzoyl peroxide spot treatment," says Bergquist.
"This will help before or even after popping."
Another helpful ingredient in spot treatments is salicylic acid; both components are useful in zapping zits for different reasons. Choosing a product that works for your particular pimple — or utilizing both ingredients as a dual, deadly weapon — can work wonders.
3. Using aspirin
Put down that glass of water — no one said anything about swallowing aspirin! It turns out that the old standby contains the aforementioned salicylic acid, which can clean the area and reduce inflammation. So try smashing it up (remember, it has to be actual aspirin, not something similar like Acetaminophen or ibuprofen), adding a few drops of water, and applying it directly to your zit.
You can also mix in additional ingredients, such as honey and aloe vera. Stirring in some yogurt makes for a acne-punishing face mask (and there are other refreshing face masks you can whip up at home!).
4. Tea tree oil
Tea tree oil smells nice and comes from trees that are native to Australia… so far so good, right? But it gets even better. According to the New York Times, multiple studies have shown that tea tree oil totally works as a zit-zapper — and it's milder than benzoyl peroxide, which can irritate the skin.
But it's worth repeating: with any new cosmetic treatment, if you've never tried it before, do a test on your forearm, first. An allergic reaction will make that zit look sooo much worse.
5. Hydrocortisone cream
Hydrocortisone cream is a topical steroid that is used to reduce swelling and redness. In other words, it can be a perfect weapon for shrinking zits. Hydrocortisone cream can be purchased on its own or as an ingredient in spot treatments; try using it as a follow-up to benzoyl peroxide to maximize its power.
6. Concealer
And finally, for the pimple that cannot be vanquished: concealer. Now, we all know that using the wrong type of concealer can make a pimple even more noticeable, whether it's because it's the wrong shade or slathered on so thickly it resembles a flesh-colored oil slick.
"A color that is a little too light or too dark will make the pimple stand out even more," says Bergquist.
"Also having a concealer that is matte and not too creamy will help deflect light."
Images via shutterstock.com, giphy.com, coveteur.com and tumblr.com.
Comment: What's your foolproof trick for nixing a pimple, fast?
You Said
Comments
Related stories
More from this author