PREVIOUS STORY
#AwkwardMuch: 5 Mortifying Moments From The AMAs
NEXT STORY
Glamour and glitz always lead to glitches.
The American Music Awards (AMAs) are always an exciting time of year. Who wore it best, who wore it worst, who won what, who got most drunk at the after-party; the list of curiosities goes on and on.
However, amidst all the glamour and glitz, there are always a few moments that are, well, supremely awkward. From public dissing to bitchy resting facing, this year's AMAs had it all. Here are seven of the most mortifying moments, both on and off the stage…
1. Gigi Hadid dissing Harry Styles
Twitter is ablaze with the #awkward moment Gigi Hadid publicly blanked Harry Styles on the red carpet. Gigi hugged and kissed every single member of One Direction…but gave Harry a formal handshake and a frosty stare. Nobody's quite sure why, but it's possibly because Harry has dated two of Gigi's BFFs, Taylor Swift and Kendall Jenner. And those breakups didn't go so well.
2. Meghan Trainor and Charlie Puth's makeout sesh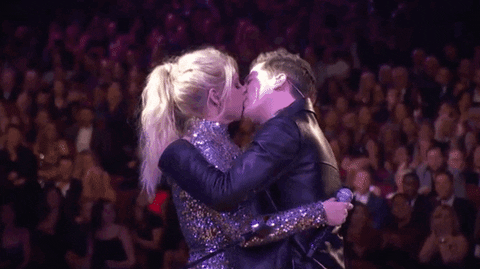 After singing, Like I'm Gonna Lose You, Meghan Trainor and Charlie Puth engaged in a steamy yet awkward public display of affection. Don't get me wrong; I'm super jealous, but come on guys, Madonna and Britney kinda already have the whole on stage pash thing cornered.
3. Coldplay's wierd set
While it's awesome to see Chris Martin performing again after seven years, Coldplay's performance of Adventures of a Lifetime featured psychedelic colours, LED balloons, and four – wait for it – monkeys. Why? I guess we'll never know.
4. Nicki Minaj throwing shade at JLo over Anaconda
During JLo's flawless opening number, in which she performed her own rendition of Anaconda, Nicki Minaj was caught on camera apparently giving Jen a pretty significant evil glare. She has since taken to Twitter to deny this, saying she was looking at her own face on the screen when she flashed those eyes. But we're not so sure…when the two queens of booty go head-to-head, someone's bound to get burnt.
5. JLo's backup dancer flashes her butt
Er, this was awkward. It's every dancer's worst nightmare; finally making it to possibly the largest stage in the world…then splitting the back of your costume, exposing your (toned as hell, by the way) booty for all the world to see. At least it was appropriate to the theme of the number, and her costume was flesh-coloured anyway. Still, we hope her nana wasn't watching.
Images via youtube.com, giphy.com and instagram.com (@jlo).
You Said
Comments
Related stories
More from this author