PREVIOUS STORY
7 Reasons Why Glamping Is Better Than Camping In Every Way
NEXT STORY
Camping can be fun, but glamping is the business… trust me.
Look, don't get me wrong. I don't mind a bit of camping every now and then.
Tents are loads of fun, and pretty darn romantic. You're sleeping under the moon and the stars, hearing the wind whistling by, and maybe even the ocean waves crashing on the sandy beaches…
But you know what's not romantic? No bathrooms. No fridge. No showers… or worse, showers that you just KNOW don't get cleaned more than once a month despite being used by hundreds of people a day. Yep. Here are a few reasons why glamping is superior to roughing it camping in pretty much every way…
1. No setting up or packing down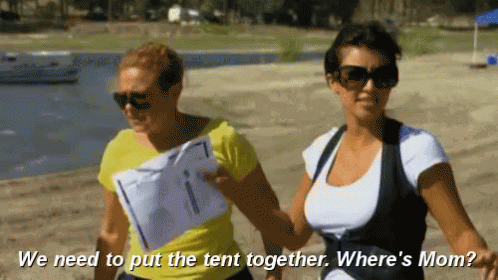 Camping sounds great in theory, but then you remember you have to make several trips to and from the car with all manner of equipment, do a big shop and make sure you have room in the esky for everything, unpack said items from the car, pitch the tent, struggle with the inflatable mattress, light a fire… it's exhausting just thinking about it.
And then when you're done you have to do the WHOLE thing in reverse. It's enough to make you feel like you've not had a holiday at all. With glamping, everything is already set up for you. All you need is yourself, and your clothes, and you're done. Ahhh…
2. Luxe linen and a plush mattress
Whenever I've gone camping, it's alternated between a sleeping bag on the lumpy bumpy ground, a sleeping bag on a mattress so thin it might has well have been on the ground, or an air bed that starts off nice and airy, but ends up on the ground by the morning. Glamping means fancy, hotel style beds. Think fluffy doonas, plush pillows and luxe 100-thread-count sheets. Count me in.
3. Flushing toilets (and maybe a bathtub if you're really lucky)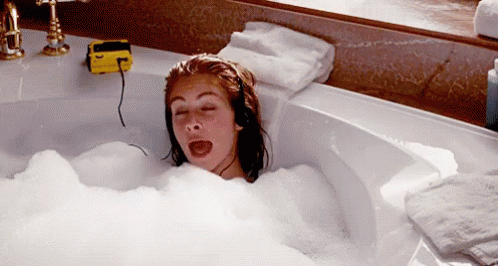 Forget taking a manky toilet roll out to behind some bushes in the pitch black of the night. Or hunting around in the dark to find a pair of shoes to brave the icky public bathrooms in your camp ground. Most glamping sites pride themselves on luxury bathrooms. Porcelain thrones fit for a queen, deluxe outdoor showers full of high-street amenities, fluffy bath towels and robes, and if you've really lucked out, a nice deep bathtub perfect for soaking your troubles away.

4. Drool-worthy food
Baked beans over a lousy lukewarm fire? Barbecue on facilities not cleaned properly by the last 30 users? No thank you! Glamping hot spots usually pride themselves on their gourmet food selections. Think three-course dinners, or chef cooked barbecues under the stars. Even a breakfast hamper filled to the brim with goodies for you to cook yourself on your private balcony stove is a wonderful creature comfort.
5. A tent you can stand up in
There's always that awkward moment when you need to change in a tent and you have to pull up your undies and jeans somehow while you're on your knees. Standing up is impossible in your little dome tent, and you end up doing a kind of wiggle dance to get every bit of clothing properly in place. Being that your glamping tent can usually fit a king-size bed, I'm betting it has enough room for you to change clothes, and do a little dance around the room at how amazing your experience is.
6. The fireplace is usually already set up for you
Nothing more romantic than a fireplace on holidays. But when you're setting up your own and you forgot matches, and need to try to find kindling and firewood after it's been raining, we have  big problem. Fireplaces at glamping spots are different. They're either fully blown fireplaces inside your abode or they're glam firepits outside, but either way they're all set up. Wood fully chopped, kindling already in place. Matches nearby. All you have to do is light one and you're good to go.
7. No BYO drinks here
No, you won't need to make a stop at the bottle shop to pick up enough drinks (both alcoholic and not) to last the week. Not to mention making sure that you have enough ice to go the distance, lest you be drinking lukewarm white wine in the hot Summer sun. Most glamping spots have a bar (or at least a minibar fridge). And if you're lucky, they'll also have a hot bartender to mix up that holiday Cosmopolitan for you to order.
Images via giphy.com, tumblr.com, tenor.com. 
Comment: Have you ever tried glamping? Do you prefer it over camping?
You Said
Comments
Related stories
More from this author