PREVIOUS STORY
7 Ways You Didn't Know You Could Use Coffee In Your Beauty Routine
NEXT STORY
Is there anything coffee can't do?
Not a day goes by without me having at least two cups of coffee. It's what I look forward to in the morning, and in the afternoon, it gets me over that 3pm slump. In fact, I'd rather go a week without sugar than skip a single day of caffeine.
And I'm not alone. Undoubtedly coffee is one of the most popular drinks worldwide, so to celebrate the addictive bean, take a look at all the other ways you can use ground coffee besides making a delicious beverage. Don't throw your used coffee grounds away, instead, recycle them to beautify yourself with these DIY coffee treatments…
1. Hair tint
Mix two tablespoons of ground coffee with your conditioner, and massage into hair before rinsing to naturally enhance brunette locks. (Full instructions here.)
2. Puffy eye treatment
If you wake up looking a bit puffy, apply some lip balm mixed with a pinch of ground coffee to your under-eye area and wait 10 minutes. The anti-inflammatory properties of the coffee will de-puff your peepers in no time. (Full instructions here.)
3. Exfoliator
Ground coffee is the cheapest, best smelling skin exfoliator there is, with the bonus of pepping up tired skin and helping banish cellulite thanks to its caffeine and antioxidant combo. Just rub it over skin in circular motions while in the shower to get rid of dead skin cells. (Full instructions here.)
4. Anti-cellulite wrap
The caffeine in ground coffee stimulates circulation, which helps promote the body to get rid of excess water, so a coffee wrap is a great way to reduce cellulite. To make your own, massage coffee into your problem areas and then wrap the area in cling film for 30 minutes. (Full instructions here.)
5. Detoxifying face mask
This is a killer face mask for skin that looks tired, puffy, or dull. Mix 1/4 of a cup of ground coffee with three tablespoons of milk and one tablespoon of honey, then apply to your face and remove mask by wiping off with a damp cloth or makeup wipe after 15 minutes for bright, renewed skin. (Full instructions here.)
6. Foot scrub
Mix half a mashed banana with 1/4 cup each of salt, ground coffee and olive oil and massage into your tootsies to gently exfoliate away rough, dead skin and banish stinky feet. (Full instructions here.)
7. Lip scrub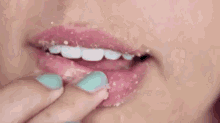 Get incredibly smooth lips by gently massaging equal parts coffee and coconut or hemp oil into your pout before rinsing with warm water. As a bonus, the caffeine will boost circulation making your lips look temporarily plumped. (Full instructions here.)
Images via unsplash.com, tumblr.com, giphy.com.
Comment: What's your favorite unconventional way to use coffee?
You Said
Comments
Related stories
More from this author