PREVIOUS STORY
8 Household Items You Never Knew Doubled As Sex Toys
NEXT STORY
It's time to get frisky.
You decide it's time to spice up your love life, but there isn't a sex toy in sight. Maybe you're staying the night at bae's and your whole naughty kit and caboodle is stashed under your bed at home, or maybe you're strapped for cash and can't rationalize blowing $200 on a vibrator.
Thankfully, as it turns out, there are a plethora of everyday household items that can be used as sex toys.
It's important to be inventive in the bedroom to keep things interesting, but you don't have to spend hundreds of dollars to get off in fun new ways. In fact, the possibilities are pretty much endless when you get creative with what you already have in your home.
Just be cautious, as risks always exist with any improvized sex toy. You don't want your night of passion ending up in the emergency room. So always be clean, cautious, and go easy.
Whether you're playing alone or have someone to join in on the fun, here are eight household objects that'll help you get to Pleasure Town even faster…
1. Cucumber
The most phallic of vegetables, everyone seems to have one in their crisper. And the girth and length of the cucumber makes for a perfect DIY dildo. Add the coldness of being in the fridge, and you have an extra stimulating toy at the ready. Just ensure it's washed and used with a condom, and definitely don't serve it to your dinner guests afterwards.
2. Kitchen spatula 
A multi-use kitchen utensil most of us use to whip up post-coitus pancakes with, now your humble spatula can help put you in the mood, too. Spatulas are smooth in texture and non-sharp, so perfect for stroking the body with and then delivering a nice swift spank. To find your spanking threshold, simply start soft and work your way up in intensity.
3. Banana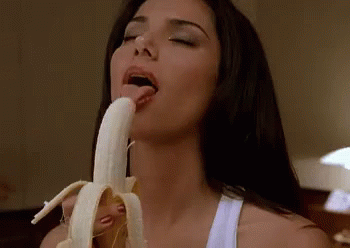 You could spend your pay packet on the latest G-Spot stimulator, or you could head to your fruit bowl and improvize instead. Bananas are curved perfectly to hit your G-Spot with little effort required – just make sure you put a condom on first and use one that's fairly firm. Alternatively, a banana skin makes the perfect sheath for guys to slide their penis in and out of for ultimate stimulation during foreplay.
4. Hair brush 
Why not get ready in the morning then take your beauty tools back to bed with you? A hair brush can tickle and tease all of the erogenous zones of the body quite like nothing else can. Go soft or hard bristle, or even mix it up by swapping between the two; then work in circular motions over the body to get the blood pumping in all the right places.
5. Shower head 
Warm rushing water on your clitoris is a guaranteed way to get off quickly and cost-free when you're home alone. Alternatively, using your shower time as a pre-sex warm-up to get you in the mood is a great way to get clean and dirty with your SO at the same time…
6. Washing machine 
For the times when you're feeling a little lazy, let your washing machine do the hard work for you. Sitting on the washing machine while having sex will vibrate your entire body, giving you a head-to-toe earth-shattering orgasm. You're welcome.
7. Spoons
Chill metal spoons in the freezer then massage them over your partner's erogenous zones (read: lips, nipples, thighs) for a sexy foreplay sesh that's oh-so cool.
8. Clothespins
Whoever thought the clothespins you use to hang out your clothes would make a fun little BDSM toy? Excellent for heightening sensation play during sex, or by yourself, clothespins applied gently to nipples can delicately squeeze and entice. Just be careful taking them off so as not to do damage.
Images via giphy.com and tumblr.com.
Comment: What household items have you discovered also double as DIY sex toys?
You Said
Comments
Related stories
More from this author