PREVIOUS STORY
Beyonce Puts Black America Centerstage At The Super Bowl
NEXT STORY
Bey didn't just slay it, she made a statement doing it.
At today's Super Bowl Match, the Broncos might have taken home victory, beating the Panthers 24-10, but it was Beyonce's half-time performance that won the entire show.
It's not exactly surprising that our girl Bey totally slayed it. In 2013, she memorably gave one of the best Super Bowl performances of all-time when she famously reunited with her Destiny's Child clan. But this year, there was more than just rejoicingly good singing and contagious dance moves in Beyonce's show-stopping performance of her brand new single, Formation, which paid homage to Black America with its strong political message.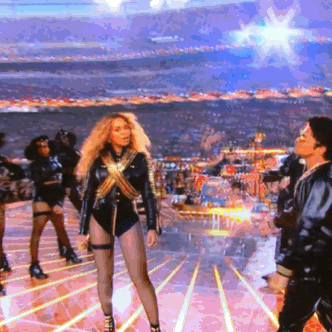 With lyrics like, 'My daddy Alabama, Momma Louisiana; you mix that negro with that Creole, make a Texas bamma', and 'I like my baby hair, with baby hair and afros. I like my negro nose with Jackson,' the song is steeped in Black culture and history; its video clip – which dropped last week – features a stunning scene in which Beyonce sinks a New Orleans cop car while a young Black boy dressed in a hoodie dances in front of riot police.
And the ultimate girl boss's Super Bowl performance followed suit from the clip, with Black female fro-wearing back-up dancers surrounding the singer, who wore an embellished leather jacket in a nudge to the late Michael Jackson as she sang, 'I come to slay, bitch. I like cornbreads and collard greens, bitch.'
https://www.youtube.com/watch?v=9kfZoVwJu5U
Beyonce's poignant performance comes just days after the singer's husband, Jay Z, donated $1.5 million toward Black Lives Matter, and several local social justice groups through his global music and entertainment platform, Tidal, in association with Roc Nation. The donation was made the same day African American 17 year-old, Trayvon Martin, who was tragically shot and killed by a neighborhood watch volunteer as a result of being a young Black man, would have turned 21.
More than just entrancing the some 114 million people that tuned in to watch the 2016 Super Bowl, Bey's powerful performance and defiant lyrics put the Black America dialogue at the forefront of today's post-game discussions and reminded us all that when it comes to the issue of racism, there's a great deal more work we need to do as a society.
Images via Celebrity Gossiper, vanityfair.com and youtibe.com.
Comment: What did you think of Beyonce's Super Bowl performance?
You Said
Comments
Related stories
More from this author