PREVIOUS STORY
4 Eye Makeup Tricks That Will CHANGE. YOUR. LIFE.
NEXT STORY
How were we even living before we knew this?!

Makeup is a miraculous thing. From tiny touches here and there to entire facial renovations, it's amazing to see how your face can go from a blank canvas to a luscious oil painting in minutes. However, although you can conceal, tint, and accentuate anything on a superficial level, few people are aware you can actually change the shape of your features…or at least create the illusion that you have.
Just like contouring for the face gives your bones a different definition, you can also 'contour' your eyes for the same effect. These four life-changing eye makeup tips will alter the way you see your shadow and liner forever…
1. For adding definition
To give your eyes that extra definition to make them pop, take a small brush and gently sweep a light bronzer through the crease of the eye, which is halfway between the lashline and the eyebrow. A tip for girls with blue eyes is to make sure that bronzer has orange tones in it. Your eyes will look even bluer.
To kick things up a notch, apply a black pencil to your upper inner rim.
"It lengthens the eye and it also sharpens the appearance of the eye, giving more fullness to the natural lashline without seeing the hard edge of a liner," says Napoleon Perdis' Makeup Academy's national educator, Rebecca Prior.
2. For narrow-set eyes
Making narrow-set eyes appear wider is easier than you think. To elongate your eye width, simply apply black liner to the outer half of both your upper and lower lashlines. Start at your inner lid, and carefully trace the width of your lower lashline, followed by the upper, and voila! Instantly wider set eyes.
3. For drooping or heavy lids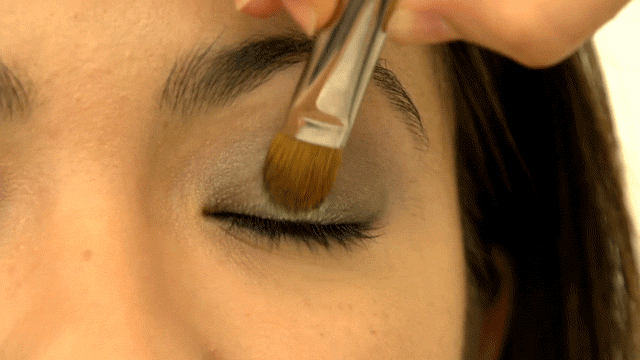 To open up hooded eyes, apply a standard highlighter above your crease between your lashline and the eyebrow, working from the inner to outer lid. After this, blend a brown or charcoal eye shadow to the heavy fold, which is the part of the eye you want to appear to push back. Make sure you blend the edges from the shadow to the highlight, either with your finger or the applicator to keep it looking natural.
4. For small eyes
To make small peepers pop, apply a white or flesh shade eyeliner to your lower inner rim, which will create the illusion of larger, more open eyes by extending your lashline.
Then use a black pencil liner along your upper and lower lashlines, penciling the lower lashline first. Connect the lines at the outer corner. The crucial element is to blend the liner with your eye shadow, going towards your outer lid. Wherever you place the darkness is where your eye will go, so by smudging the lines, it gives the illusion that your eyes take up more room on your face.
Our product picks for upping your eye makeup game
Left to right: M.A.C Eye Shadow in Saddle, Benefit Cosmetics Eye Bright, It Cosmetics Hello Lashes Mascara and NARS Stylo Eyeliner Pen in Black.
Images via giphy.com and tumblr.com
You Said
Comments
Related stories
More from this author