PREVIOUS STORY
Rihanna Getting Boozed From A Bedazzled Hip Flask At The Grammys Totally Stole The Show
NEXT STORY
BEST. ACCESSORY. OF. THE. NIGHT.
The 59th Grammy Awards have officially wrapped with the overwhelming winner of the night being Adele, who not only won five awards, but also decided to stop and restart her performance and homage to George Michael in true Adele style: swearing, then apologizing for swearing, before explaining "I can't mess this up for him."
Of course she didn't, and instead, her interpretation of Michael's 1996 hit, Fastlove brought many to tears.
Other noteworthy acts included Bruno Mars, who killed it with his tribute to Prince and a solo guitar performance worthy of the Purple Rain star, and Queen Bey, who slayed on stage with two songs from her nominated Lemonade album wearing a golden dress and headpiece making her look like the beautiful pregnant goddess she is.
But all the talent, glitz and glam on stage had nothing on Rihanna, who sat front row giving zero fucks thanks to a little companion in her pocket – every girl's best friend – a bedazzled hip flask.
Every now and then the singer pulled out her alcohol-to-go-go, took shots from it, and danced with it looking carefree AF – like we've all done a million times before on boozy nights out with our gal pals.
Knowing her chances to win a Grammy this year were slim, we guess RiRi decided to treat the awards show like a night out with friends – friends who share flasks.
While host of the night James Cordon was busy recreating his Carpool Karaoke with Neil Diamond, Rihanna was literally all of us when she unscrewed her glitter flask looking bored AF.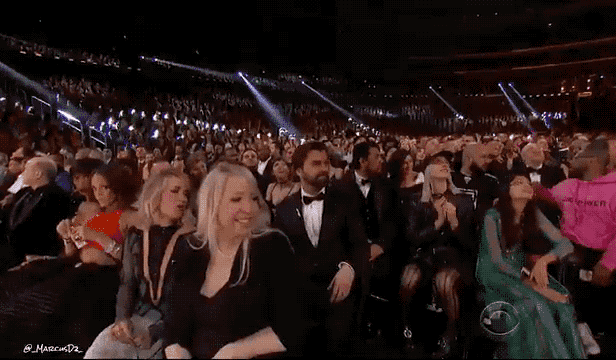 She could also clearly be seen telling her seat mate, "I think it's time for another shot" at one point during the night.
Snaps to the camera person who captured RiRi in all her gloriousness boozing it up through the night. Here's hoping she brings her flask to the Oscars, too.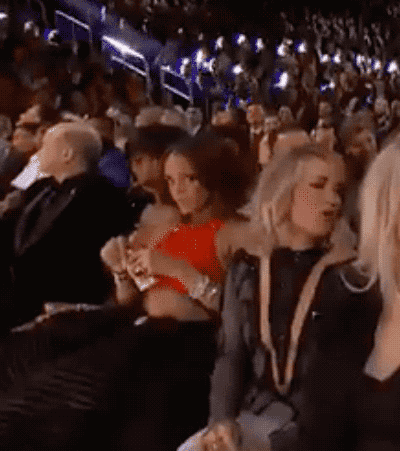 Gifs via giphy.com
Comment: What was your fave moment at the Grammys?
You Said
Comments
Related stories
More from this author