What Type Of Traveller Are You?
Meet your vacay alter ego…
Who doesn't love a good vacay? I for one, am a person who'll work a million hours without spending a cent, just so I can go on a super fabulous trip.
When on holiday though, I can't help but notice no matter what walk of life you're from, everybody seems to become a certain 'type' of traveller once the jetlag subsides and the drinking and adventure-having begins. And it's not always as expected. Often the most uptight of people transform into crazed party animals when they're several thousand miles away from work.
If you know what kind of traveller you are, you're much more likely to enjoy a holiday that's suited to your travel persona. Then instead of doing your vacay the clichéd way, you can jump on a site like G Adventures, who'll actually tailor your holiday to your inner traveller's style. (Seriously, these guys have so many unique options, give them a look.)
So before you run off and book that amazing adventure, get to know your alter travel ego…
The Drinker
Notorious around the world for being loud and perpetually tipsy, The Drinker has a beer with breakfast and doesn't stop until the day is done. Forget flying halfway around the globe to see ancient ruins and places of historical significance, these travellers just want to know where the best place is to wet their lips and have a party.
The Know-It-All
More often than not, The Know-It-All is a history buff at heart and happens to know more than the locals and Lonely Planet guidebook combined. Often travelling alone, they're handy to have around when you're looking to learn more about your current destination, but can be a little obnoxious since they know everything there is to know about every city and you definitely don't.
The Super Efficient One
Every activity, meal and minute of a trip had by The Super Efficient One is planned down to a tee. They know where they're going, how they'll get there and how to get the best deal. Somehow they've only packed a carry-on bag, but still managed to have everything they need. Meanwhile you've got a whole suitcase but somehow didn't manage to fit in a jumper.
The Chiller 
The Chiller has no plans and is often so willing to go with the flow they are unable to form any sort of independent decision, typically responding to requests with, "I don't know, whatever you want to do". With a free and open heart, The Chiller has no set plans and is willing to extend a three-day visit to a Mexican beach into a lifetime. There is no problem too big to stimulate stress amongst these hippies.
The YOLO
If you have a you-only-live-once attitude, then you are definitely a YOLO traveller. These guys are up for just about anything and will make time to squeeze in every heart-racing experience along the way. They can typically be heard yelling, "Let's partyyy!" and know how to make every moment of the journey a fun-filled ride.
The First Timer
There are two types of First Timer traveller, and watching them is often as good as renting out your fave comedy flick. The first is overly enthusiastic about everything, typically heard saying, "Wow, can you believe that everyone in France speaks French!" while the second is completely intolerant to new experiences, complaining about anything that isn't the same as their home land, usually uttering phrases like, "Can you believe they don't have Starbucks in Madagascar?"
The Classic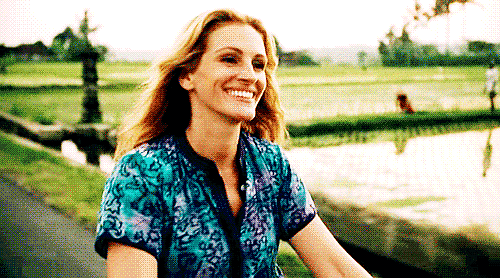 The Classic traveller is authentic and appreciates the beauty of different cultural groups and natural environments. Avoiding big tourist traps, this explorer quickly adapts and is willing to really immerse themselves in the people, culture and history of the place they're visiting. The Classic traveller is keen to learn as much as they can and is just as happy to interact with locals and spend time in busy cities as they are taking time to venture off the beaten track.
So whether you're a YOLO or a Classic traveller, the world is out there for the taking. So what are you waiting for?
This is a sponsored post, brought to you by 
Win the adventure of a lifetime! G Adventures is calling on people like you to take the next step in life by choosing to travel with a purpose. We'll pull three entrants out of their regular lives and into a world of possibilities. Enter the #NextStep competition today by clicking here, and — who knows? One of them could be you.
Images via tumblr.com and pinterest.com.
Isabelle Gillespie
Isabelle is a writer who has a hundred-and-one side-splittingly funny stories about growing up at an all-girls boarding school, with a chocolate habit that requires constant monitoring. Follow Isabelle on Twitter.